You don't need a stylist to keep an eye on the latest winter trends, we got it! Are you still picking up olives, grays and nudes for your wardrobe?…well don't! Bring out those bold brights you had in the spring and summer. The winter trends  from the 2011-2012 catwalks were captured with bold colors making it even easier for some celebrities to bring the trend to the forefront with bright colors like yellow, blue, and red.
Designers like Gucci, Alberta Ferretti, Oscar de la Renta, Rodarte and others showed that contrar to popular belief we do not have to look and feel like the weather. It could be snowy outside but feel like spring in our hearts and in our closets. Check out these looks…
Feel your spirits lift when you add bright colors to your outfits. If you don't want to be the only one in an orange dress in the restaurant on your dinner date then try just adding a dash of color. It can be with a pair of shoes, a clutch, or even a scarf. Be creative with your ensembles and never over accessorize.
Bold heels are a great way to pop monochromatic colors.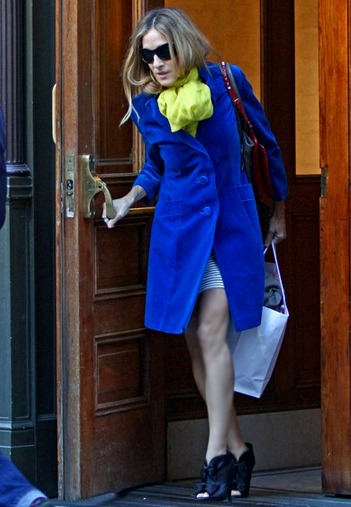 Bright colored scarfs are the best accessory for the introvert. If you are not big on brights in the winter and isn't looking for the extra attention, this is a great way to stay on trend while giving your other wise somber outfit a boost.
Last but not least is the ever trending bold clutch. No matter your taste or style, you can wear a bold clutch. You can go as bright as you please when it comes to bags.Wearing a simple neutral or nude outfit with a super bright bag will make it stand out even more, but pairing it with more brights is still okay!