Paris Fashion Week kicked off Tuesday with much anticipation, the fashion capital saw designers like Issey Miyake and Balmain give powerful shows. There was especially a buzz of excitement over John Galliano's succession at Dior. Dior's new look for Spring-Summer, showcased on Friday, was overseen by Bill Gaytten, who stepped up when front man Galliano was booted. Galliano was fired in disgrace on the eve of the March ready-to-wear shows after hurling anti-Semitic insults at bar patrons in Paris. The outburst got him a court conviction this month.
Paris will host ninety-two shows for the grand finale of the Spring-Summer 2012 ready-to-wear shows, right after the other big stops in New York, London and Milan. Kanye West along with many new designers is expected to make a big debut before a select crowd. The US rapper has reportedly recruited London fashion students to work on his collection. I can't wait to see it! Read the other stories inside…
Mandela Charity Fashion Line
---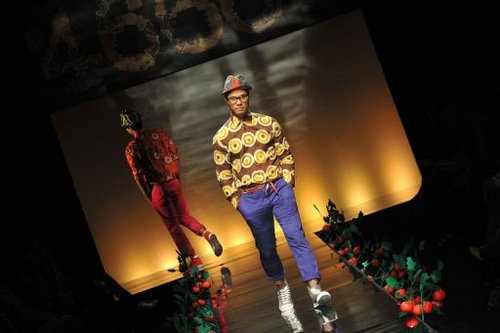 A fashion line launched to raise money for Nelson Mandela's AIDS charity made its runway debut Sunday at  South Africa Fashion Week, with high-fashion replicas of the intense prints inspired by the loose shirts that he often wore as president. It is said that seven or nine percent of the revenue generated will be given to Mandela's Foundation.
The clothing created for the anti-apartheid hero's prison number(46664) which is now the name of his charity, premiered with everything from salmon-coloured suits for men to full-length flowing gowns for women.
Wayne Bebb, CEO of Brand ID told AFP,
Someone who is quite fashionable would love some of the colours, someone who is little bit more conservative is going to find a very interesting shirt and a pair of denim."
Missoni's unexpected success for Target line
---
Italian fashion line Missoni was surprised at the success of its low-cost line for US chain store Target. Missoni calls it an "unexpected success".
We really couldn't have imagined it. It was a very unexpected success," creative director Angela Missoni told reporters backstage after presenting the spring/summer 2012 collection.
The family business launched its 400-piece Target line earlier this month. Online demand for the collection quickly sent Target's website crashing and several pieces went up for resale on eBay.
Alot of the womenswear is priced under $50, Missoni for Target gave fashionistas a chance to buy affordable pieces and save money. High-end Missoni dresses can run you over $1,000.
Check out the Lookbook.