With 2010 almost behind us, it's time to look forward to the next fashion trends on the horizon. What will be hot in 2011?  It gets interesting boys and girls. 2011 fashion trends will involve more quality pieces, fewer indulgences and better statement pieces.
We can look out for minimal whites, bold colors, lingerie dressing, and a hefty dose of '70s looks. See who is already trying these clothing trends.

The 60s Trend
Women will be wearing fuller figure or longer hemline midi dresses and skirts like those of the '50s and early '60s.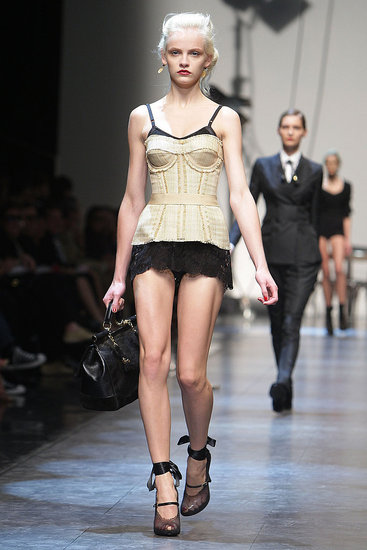 I wonder if this will be appropriate for walking down the street, somehow i feel people will make it so, it thrived in the 1980s.
The Lingerie as Outerwear Trend may be proof that the idea of fashion is to ultimately become naked, but The Cut Out Trend just might tip the mug.
We all want that vintage vibe in our wardrobe, well '70s fashion pieces are making waves and sure to thrive in 2011.
White Tights/Leggings Trend
If you do it right, white is such a refreshing change from the usual dark winter tights/leggings.