Lacoste Ad Campaign revamped its looks and launched new ads in January 2011 to switch up its marketing strategy. The campaign is said to be more sophisticated, fashionable and chic in comparison to its trademarked sporty looks. The known  tagline for the past five years, "Un Peu d'Air Sur Terre," or "A Bit of Air on Earth"  will give way to the feature phrase "Unconventional Chic". Mert Alas and Marcus Piggot shot the ads from last year, which feature models Anja Rubik  and  Liya Kebede. Joan Smalls is the front girl for the 2012 ads.The new campaign also features Lacoste shoes in an array of designs that offer relaxed fit and comfortable style.
One of the Ads from 2011 show two of the models posing with white Lacoste polo shirts worn over fancy black evening wear. I get the abstract thought, but a polo shirt could never be fashionable in my book, chic?… yes, fashionable?…uhm… Either way, the ads are online and in print. The new 2012 Ads are a lot more street ready with easy to wear items.  Keep reading to see the spring/summer 2012 behind the scenes Lacoste Ad Campaign, along with some of the new 2012 Ads. They do have some cute looks and you can get the best from any of the products with proper care.
Lacoste Fall 2012 Collection. Free Shippings and Returns!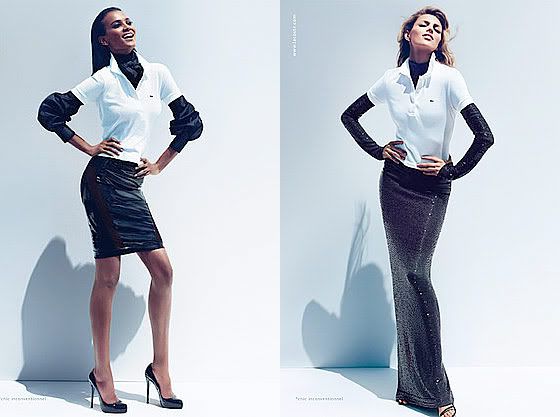 Spring/Summer 2012 behind the scenes Lacoste Ad Campaign