Shoes are my guilty pleasure. It is almost absurd to say how many pairs i own. Some people love bags or makeup, well i love shoes! I don't have any particular brand or type. I will buy anything that looks good on me. I'm not one for six inch heels but i'll tackle it if the shoe is haute enough.  The shoe trends 2012 for Spring/Summer will be hitting the streets all season. All the looks are amazing, these are some of the best ladies shoes.
Your shoes are just as important as your clothes. How many times have you seen a cute girl in a cute outfit and the worse pair of brand name shoesyou could describe. Shoeicide is what i call it. It kills the whole look! Your shoe game have to be on point ladies. So i am happy to show you the top shoe trends for the upcoming seasons! Some shoes are fab, some are faboo, others look terribly uncomfortable. Here are the hottest shoe trends 2012 for Spring/Summer, which pair does your heart desire?
Shoe Trends 2012 Spring/Summer
High heeled loafers are making a comeback this SS12. Whether you like skirts or pants these shoes will fit any ensemble.
Clear Pvc plastic shoes are the latest summer trend, everyone from Dolce and Gabana to Versace showed off the trend on the runways.
Metallic toe pointed shoes will be trendy for Spring/ Summer 2012. Designers like Louis Vuitton and Thakoon decided to revive the trend in a more glamorous way.
Pointed toes took the back seat for a few seasons now they are back on top.  Designers Now finally made the change towards pointed toes and gave them needle heels which are much sexier and feminine.
Just like shiny clothing, metallic shoes demand attention. Most people put these shoes on when they want a glam look. Silver and gold will be most popular this spring/summer but you can try any metallic color you like.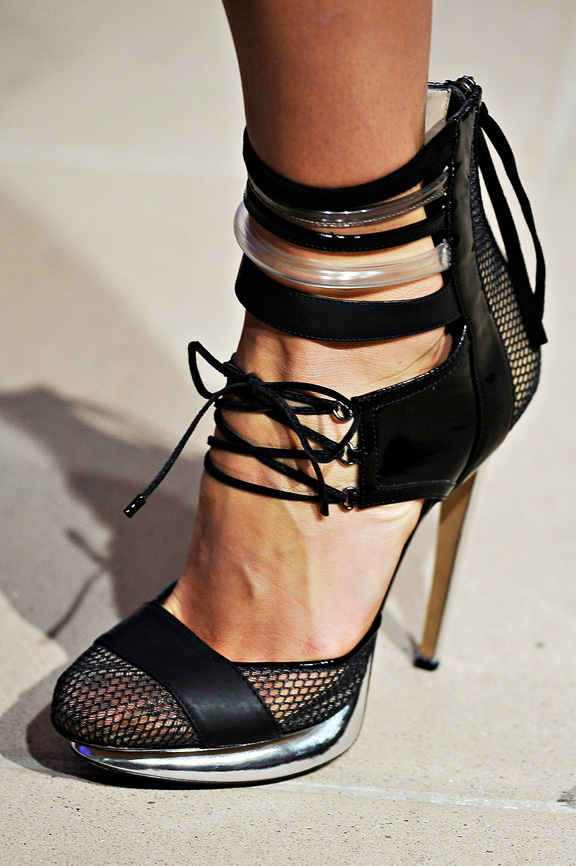 Laced up shoes will never go out of style. Designers like Oscar de la Renta and Prabal Gurung added new features to the laced up bootie including clear pvc and micro netting making it a sandal bootie crossover.
Wedges, as well as espadrilles are still trending. Designers like DKNY and Burberry Prorsum showed off  less colorful designs and more patterns this year.
Pastel colors will be making it's way back to the streets. Nude is the trendiest but other pastel colors like rosy pink, aqua blue, light yellow and pale green will also be a hit.
Bold bright accents are especially important when it comes to shoes. Bright shoes will continue to trend in the upcoming warm season.
Buckles will also be hot for the spring/summer season. I'm sure you already have a pair of shoes with some buckles on it you can wear.
Extreme platforms can give a very feminine girl the edge she needs. They might feel "cloggy", but they are a lot more comfortable than needle heels. Designers like Yves Saint Laurent and Celine showed the sexy side of platform heels.