Bikini Trends 2012 will give you plenty of  sexy swim-inspiration. Swim Fashion Week 2012 in Miami, featured high-waisted two-pieces, cut-outs, metallics, fringes and sheer cover-ups in animal motifs —so start planning your summer looks now.
Get swimwear with attitude this summer, avoid the usual polka dot/ stripe prints and solid two pieces, opt for Bikini Trends 2012, the modest swimwear pieces are in . Try mixed prints and bold neon colors. Get inspiration from these hot runway trends by designers like Mara Hoffman and Karen Neilsen. Take a peek at these looks inside and get 15% off your first purchase at 80spurple.com use code: 80snewbie.
 Bikini Trends 2012

Embrace the wild wild west in these bikinis. They look awesome on any style swimsuit. You can opt for just a fringed top or a fringed bottom, better yet a fringed one piece, pair with filigree bangles.
Go 70s with vibrant colored geometric prints . Whether you wear a one-piece or a Sustainable Luxury Swimwear bikini , these prints will capture your audience. You can add lots of bangles to top off your psychadelic look.

Get more tan coverage when you wear a bandeau top. Pair low-rise bottoms in a rich color like this water colored bikini bottom pictured above. Feel free to mix and match different style bottoms with your bandeau tops.
Embrace your curves with figure-shaping bottoms like these high-waisted pair.
Embrace one of the classic prints of the warm season, florals. Get a floral swimsuit with a midcut-out, you can make a boring one piece look sexy and you'll definitely look like a super hot Fiji islander on the shore or by the pool!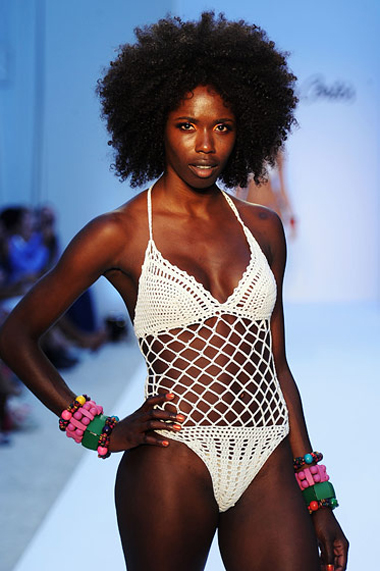 Another haute trend this season is crochet swimsuits, but it is not for everybody! Keep in mind these swimsuits can be very revealing and most of them offer no breast support. Accessorize your crochet swimsuits with lots of neon colors for a fashionable day by the pool.
Pump up the color volume by color blocking brights, either on top, bottom or mixed.
Mixing prints are hip and fun.  How about a swim like this one with stripes and plaid…it modifies any body figure with its optical illusions.
Animal prints and tribal prints will be hotter than ever this summer. Python is also a good look.
The shiny metallics will dazzle in the sun. This monokini with the sleeves aren't something you see every day and will be sure to stand out at your next pool party.
Printed sheer beach cover ups were popular at MBFW Swim ready to wear shows. Pair these cover ups with your favorite bikini.